Moderator: mark
---
---
Hi Hum
The impromptu display at enniskiillen yesterday looked great with the smoke (as wellas the takeoff!!!).
Nevergiveup took some pics, so if he or i can work out to upload them, will stick them up.
We'll need to keep giving you reasons to show it off
Willo
---
Unverified User

Posts: 19
Joined: Sun Jul 08, 2007 7:17 pm
From EGAB on 27thDec.
---
Watched the display from my garden
On finals to land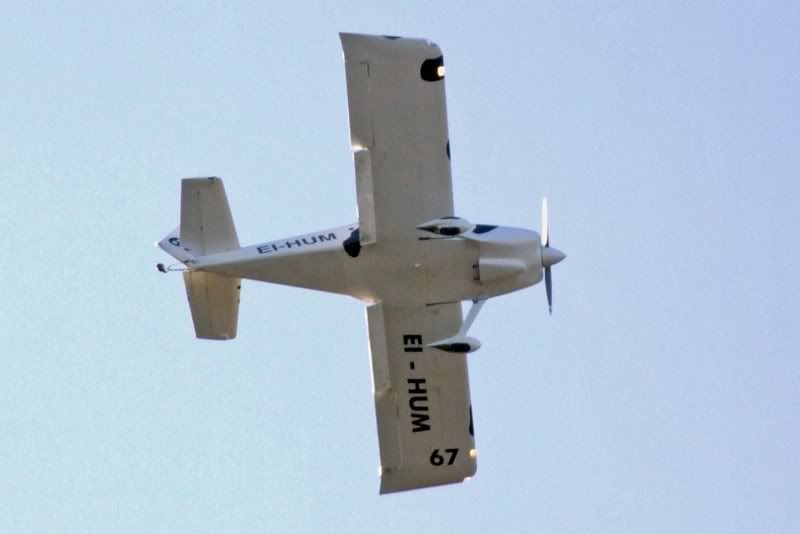 ---
---
---
Verified User

Posts: 436
Joined: Wed Sep 01, 2004 1:09 pm
Location: Dublin
Contact:
... and to think, some people try to give up smoking at this time of year
OnTheNumbers
-------------------------------------------------------
http://www.clearofcloud.ie
@clearofcloud on Twitter, Instagram
---
---
---
Hum, how does the smoke system work and what kit is required? did you make it or buy off the shelf?
the atc lads at eiwf comment that the bd5s are difficult to see in circuit and even harder for other traffic to spot. i have thought blips of smoke may be the answer if it can be built in a small space and not weigh too much.

if i do i will learn morse and then be able to send rude messages if anyone cuts me off, but lets not start forumites off writing dots and dashes in their posts!!!!
---
Not a lot involved really, you basically squirt a suitable fluid into the back of the exhaust. I used an OTS kit from these guys:
http://www.smokingairplanes.com/
Call me if you want to chat about it, if you send me an email hum at iolfree.ie I can let you have details, photos etc I sent to saac for the mod approval.
Might be easier to buy glasses for the ATC guys than install in a BD5
---